Kayaking in Tenerife - Los Gigantes Cliffs
If you want to enjoy the beauty of the Los Gigantes cliffs in Tenerife, the best option is kayaking. With the help of our instructors you can enjoy the incredible scenery that Los Gigantes has to offer. In addition, our team offers the possibility to take a swim and enjoy the crystal clear waters of Los Gigantes.
With departures every day of the year, you can't miss one of the most special places on the island for Kayak in Tenerife. We assure you that our aquatic journey will become an unforgettable experience.
Los Gigantes Cliffs are located on the west coast of Tenerife and form part of one of the most impressive landscapes of Tenerife.
The kayak route is ideal to get to know the essence of Los Gigantes in depth. The route will take us under the cliffs of Los Gigantes until we reach Barranco Seco, where we will take the opportunity to stop for a rest.
You can stop for a rest, have a swim, take photos and have a cool drink - there's time for everything! Afterwards, we will return to the starting point in Puerto de Los Gigantes.
And if your concern is that you have no experience on a kayak, don't worry! At the port, before setting off, you will receive a basic introduction to kayak paddling and, during the trip, you will be accompanied at all times by two monitors. So if any problems occur, they are there, an experienced team to help you with whatever you need.
We guarantee that you will have an unforgettable day on the water and you will want to come back for more. Tenerife always has great weather all year round. It is also surrounded by crystal clear water on its beaches, giving you breathtaking views of the Los Gigantes Cliffs of Tenerife.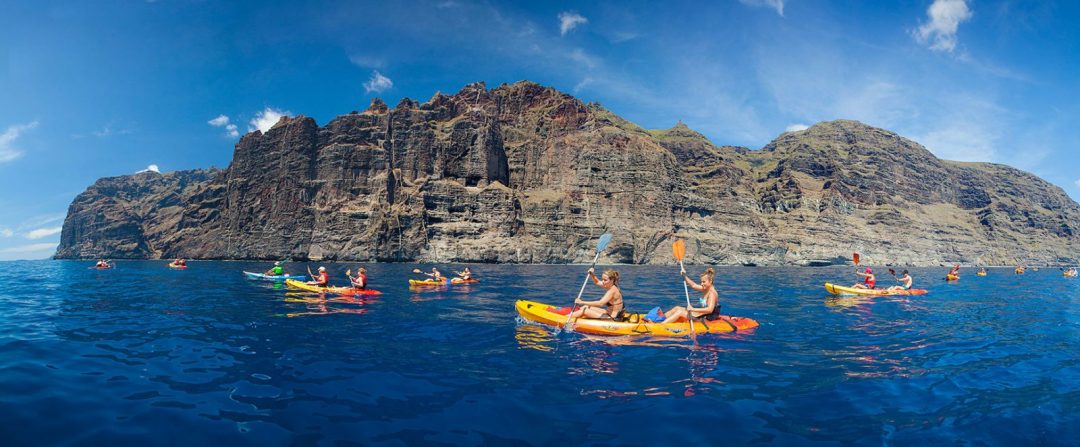 Details
Available times
Leave well in advance as parking is difficult to find (especially in August). The marina car park has to be paid for.
Including
Kayak, lifejacket and paddle.
Zodiac support and monitors.
One drink.
Photographs
Civil liability and accident insurance.
What should I bring?
Swimming trunks or trousers that can get wet.
Cap and sun cream to avoid sunburn.
Difficulty
Low
Important
Arrive at least 30 minutes in advance.
Parking in Los Gigantes is difficult, please take this into account when planning your route.
CONDITIONS FOR CANCELLATION:

If the activity is cancelled due to bad weather forecast, the activity fee will be refunded or an alternative date and/or route will be offered.
 
If you cancel 24 hours before, no refund will be made.
 
If you do not show up or arrive more than 15 minutes late, no refund will be made.
 
If you cancel between 24 and 48 hours in advance, 50% of the amount will be refunded.
 
If you cancel more than 48 hours in advance, 100% of the amount will be refunded.
Frequent questions
Is it difficult to get into a kayak?
No. It's very easy. You can learn in no time at all. Getting into a kayak is very easy and does not require any special skills, just practice and a little bit of confidence. The paddling technique is very simple and not very dangerous.
What happens if I fall out of the kayak?
Well... you fall into the water. It might be a bit annoying, but the kayak stays afloat and you can easily get back in.
Do you have to be fit to kayak?
You don't need to be fit because the pace is always slow in order to enjoy more of the scenery and there is very little effort involved.
How long does it take to get to Los Gigantes?
First of all, don't pay too much attention to the GPS because there is a lot of secondary road and parking is quite difficult to find. Although the marina itself has a public car park, it costs about 2 euros per hour.
If you are coming from the south motorway take Exit 87 and continue the route Alcalá -> Los Gigantes.
If you are coming from the north of Tenerife follow the following route: Icod -> El Tanque -> Stgo del Teide -> Tamaimo -> Los Gigantes.
How much does it cost to kayak?
The basic price is 30 euros per adult and 10 euros for children under 10 years old. If you are a resident of the Canary Islands we will give you a discount of 5 euros per person.
How much does it cost to kayak if we are a large group?
The price will be the same but a 10% discount will be applied automatically if the group is at least 10 people.
Are Los Gigantes the best area for kayaking?
Yes, Los Gigantes Cliffs is one of the best areas for kayaking in Tenerife due to the breathtaking views, the calmness of the sea and the crystal clear water.
What is Los Gigantes cliffs?
The cliffs of Los Gigantes is a wall of volcanic origin that starts from the port of Los Gigantes to Punta de Teno. In ancient times, this wall signified the end of the world and was known as the "wall of hell or the devil".