Your best flight experience in Tenerife
Tenerife is one of the most important tourist destinations in Spain, in 2019 the island achieved a total record of more than 6.1 million tourists, beating all forecasts.
The island is known as one of the jewels of the Atlantic Ocean for its tourist, gastronomic and scenic attractions, with a magnificent hotel plant of great quality, coupled with a totally enviable climate, where an eternal spring reigns to the delight of tourists.
The island has countless beaches, natural pools, coves, beautiful peaks, volcanoes and huge mountains where you can enjoy with family or friends surrounded by incredible nature, all accompanied by unique activities and experiences.
PARAGLIDING IN TENERIFE, A ONCE IN A LIFETIME EXPERIENCE
One of the most unforgettable experiences you can have on the island is paragliding in Tenerife, a once in a lifetime experience, with qualified professionals where you can safely admire the landscapes of the island from a bird's eye view, enjoying a spectacular flight that will leave you in love, flying over peaks, mountains, villages and beaches, with incredible views of the volcano Teide. Undoubtedly, an experience that will leave you marked for life, and that you will want to repeat.
TAKE-OFF POINTS IN TENERIFE
On the island of Tenerife, there are two quite marked areas for take-off and paragliding, one is from the north of the island and the other from the south. There are multiple formulas, you can take off from the central area and go north and end up landing in Garachico, Puerto de La Cruz or Los Realejos or take off towards the south and end up landing in the small port of Güímar or in La Caleta.
However, one of the most popular flights is to fly over the Teide National Park, where you can enjoy the unique landscape of the volcano El Teide and Las Cañadas, one of the landmarks on the island of Tenerife.
PARAGLIDING FLIGHT SUITABLE FOR ALL AUDIENCES
Unless the person is unable to do this type of activity due to a medical prescription, paragliding is suitable for practically everyone, it can be practised from the age of 5 years and with a weight of between 20 and 120 kilos. Many companies also have technical and human teams to enable flights for people with disabilities so that they can fly with maximum safety, although it is always good to consult with the company about any doubts that may arise regarding the flight.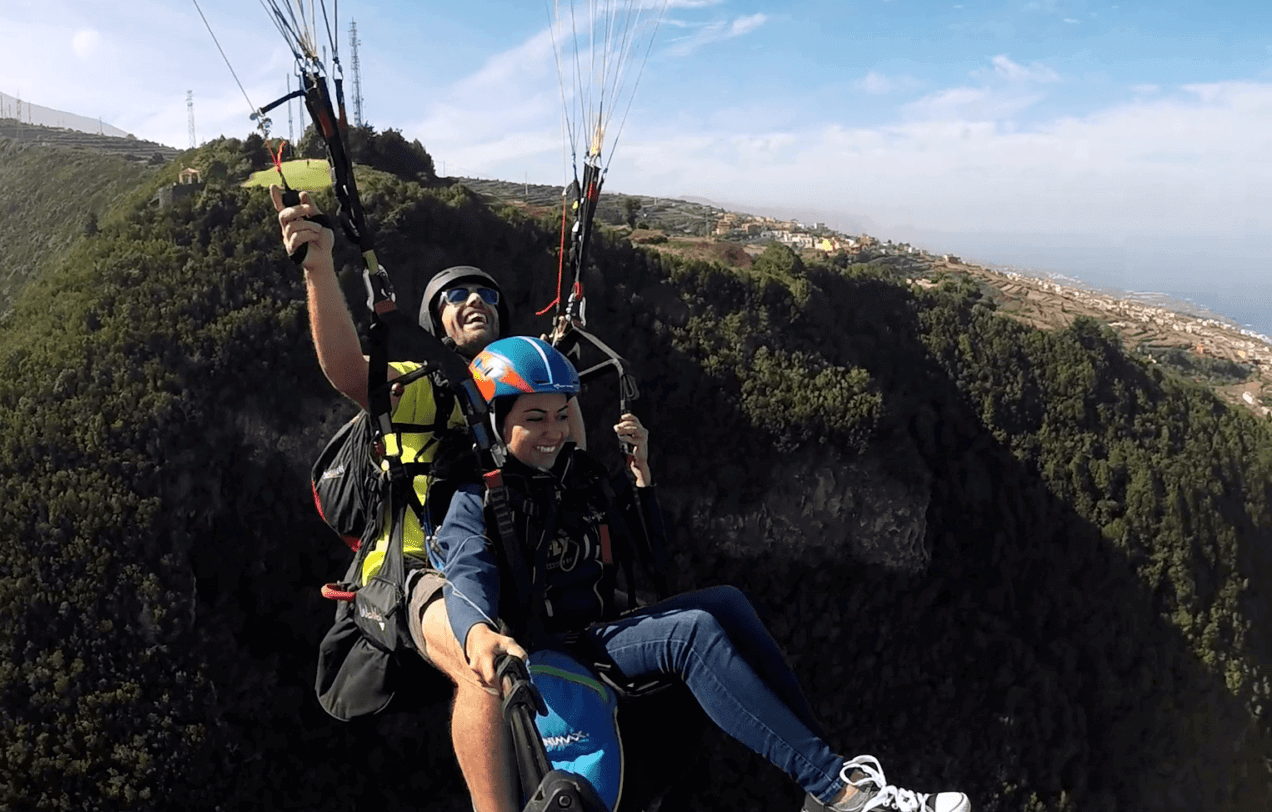 We offer you 3 types of flights in Tenerife:
Base Flight
For those of you who are going to try this unforgettable experience for the first time, this basic flight is the best option to get in touch with the world of paragliding. We offer you a comfortable and safe trip so that you can feel the flight in a relaxed way and enjoy your first trip to the clouds without any worries.
Ifonche Flight
We will fly over the Barranco del Infierno Special Nature Reserve where you can enjoy the protected landscape of Ifonche and the Corona Forestal Nature Reserve.
Its landscapes stand out for its high mountains known as Roques del Conde and Roques de Imoque, which are part of the ancient massif of Adeje.
In this flight we take off at an altitude of 1000 metres above sea level in order to observe the protected area and admire its native landscapes and land on the beach of La Enramada, La Caleta. This is a great experience together with the thrill of the flight, a feeling of freedom that will allow you to completely disconnect from the world and your routine.
Performance flight
For the more non-conformist and for those of you who are looking for a unique experience above and beyond the basic flight. This is undoubtedly your modality. A paragliding flight over different routes that will test your nerves but at the same time, you will be comforted by the fascinating views along the way. Without a doubt, the end of this route will make us feel grateful to this land and this island.
Izaña Flight
For the real experts and for those who know what they want, this modality will take you to the highest level. You will fly over the National Park, one of the most impressive geological spectacles in the world. From the sky you will see the extraordinary geological treasure in which volcanoes, craters and chimneys form an impressive array of colours and shapes just for you.
The Cañadas del Teide seen from the air allow you to see the enormous rivers of petrified lava, the rocks shattered by erosion are an unforgettable vision of a natural chaos that goes back to the past. A wonderful garden full of flowers and soft aromas, unique in the world.
Is paragliding safe?
Paragliding as a flying machine is very simple and simplicity goes hand in hand with safety.
Our company philosophy is to make our customers enjoy themselves. We will never fly in conditions that are not optimal for a completely safe take-off and landing. If the conditions are not ideal on the day of the flight, we will postpone the flight or refund the money.
This Paragliding activity in Tenerife is one of the most valued by the clients once done! We assure you that you will want to repeat it in your next holidays!
Details
| Type | Price | Duration |
| --- | --- | --- |
| Base flight | 90€ | 15 ~ 25 min |
| Ifonche flight | 105€ | 15 ~ 25 min |
| Flight performance | 120€ | 30 ~ 45 min |
| Izaña Flight (Teide) | 160€ | 45 min |
NOTE:Weather conditions may affect the duration of the activity.
Monitors speak
Spanish, English, German and Italian
What are the age and weight limits for flying? 

In terms of weight limit: between 25 and 100 kilos.
As for age: there is no limit. Minors must have their parents' authorisation.
Do I have to wear special clothes? 

We generally recommend that all passengers wear warm clothing and sports shoes. Please note that take-offs are usually on slopes and in natural areas, so it is best to be prepared for this type of terrain.
I have vertigo, can I fly? 

As a general rule, the sensation of vertigo is not felt even if the person suffers from it. With paragliding, we lack spatial references for the sensation of vertigo to arise.